Source
Kompas – January 16, 2019
Image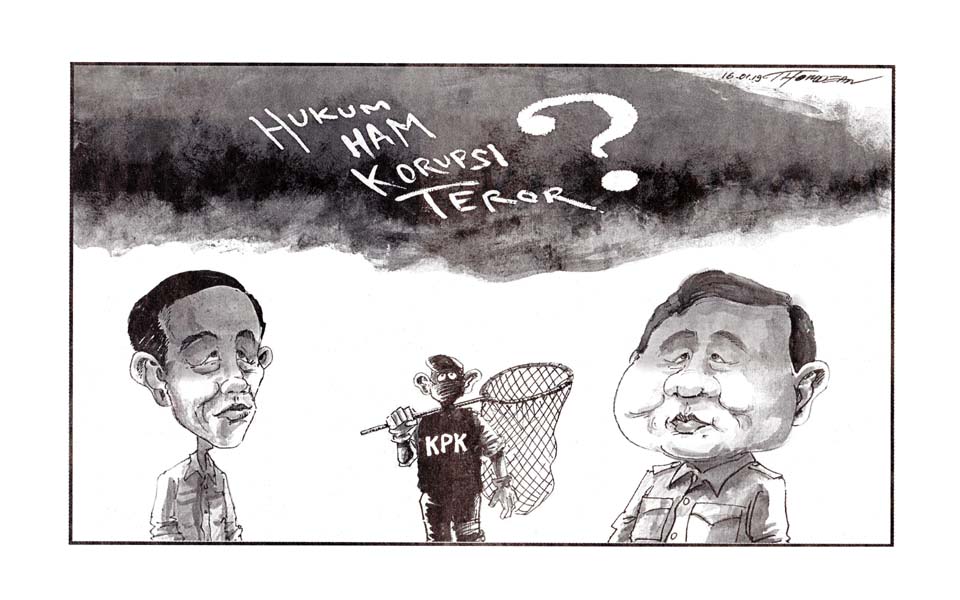 Body
Amid a series of arrests of high-profile politicians in sting operations by the Corruption Eradication Commission (KPK), many voters were eagerly awaiting the first live presidential debate scheduled for tomorrow evening between incumbent President Joko "Jokowi" Widodo (left) and vice presidential running mate Ma'ruf Amin and rival Prabowo Subianto (right) and running mate Sandiaga Uno.
But thanks to a controversial decision by the General Election Commission (KPU) to give all the moderator's questions to the candidates a full week beforehand, the "great debate" on law, human rights, corruption and terrorism is shaping up to be rehearsed and wooden show.
Given the lack of real substance in the political discourse so far, many Indonesian's were hoping – especially given the choice of topics – that it would be a repeat of the free-flowing and lively exchange witnessed when Widodo and Prabowo went head-to-head in the 2014 presidential election debates.
But despite widespread protest from the public, the KPU argued that by giving the candidates the questions beforehand would allow the them to give more substantive answers and better inform voters.
Not surprisingly, both the Widodo and Prabowo camps have welcomed the KPU's decision, since neither camp wants their election policies (or lack of) – which have been described as being largely rhetorical, lacking substance and concrete solutions and having little to differentiate them – to be subject to any real public debate.