Source
Kompas Newspaper – September 6, 2023
Image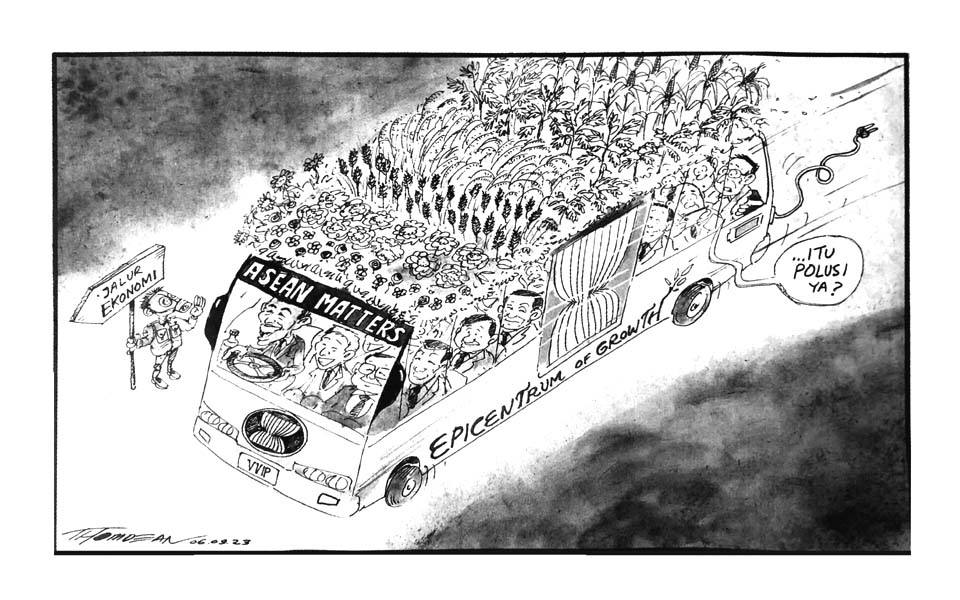 Body
Man at back of bus: Oh, that's the pollution. Sign held by police officer reads "Economy lane".
High-rise buildings in Jakarta will soon be required by law to spray water mist from their rooftops as part a desperate bid by the government to tackle the toxic air pollution that has been choking the megacity for weeks.
The decision to introduce mist technology on 300 buildings comes amid hurried efforts to clear the skies a week before the city hosts the ASEAN Summit on September 5.
In announcing the policy, Jakarta Environment Agency head Asep Kuswanto claimed that after installing the system on Central Jakarta's Pertamina Building, testing showed a reduction in harmful PM2.5 levels around the building.
PM2.5 particles have a diameter of 2.5 micrometres or less, about 3 percent the width of a human hair. The fine particles – largely the product of smog from traffic, industry and fires – are small enough to penetrate the lungs and bloodstream and have been linked to an increased risk of cardiac arrest.
Environmental groups however say that the solution may actually worsen the problem, noting that water mist tends to dissolve PM2.5 particles and other toxic chemicals higher in the atmosphere which then fall to the ground where they evaporate and increase pollutant levels at street level where most ordinary people work and live.
Two and a half weeks after President Joko "Jokowi" Widodo ordered a series of measures to curb Jakarta's pollution, the air quality above the capital is showing little sign of improvement.
According to Swiss tech company IQAir, the air quality index (AQI) on August 14 – the day the president met with senior officials to find a solution to the pollution – had reached the alarming "unhealthy" level of 152.
On August 31, just a week before the ASEAN summit, it had deteriorated to 161.
A Jakarta Post editorial on August 31 also noted that that after weeks of attempts by the government to solve Jakarta's choking air pollution, the problem seems to be worsening instead of improving.
"But these are mere short-term solutions aimed at saving the country's face when we host ASEAN leaders and dialogue partners next week".
"We must go beyond the ASEAN Summit and other high-profile meetings. We need comprehensive solutions to ensure that everybody can breathe fresh, healthy air: a human right that the government has so far neglected", wrote the paper.