Source
Kompas Newspaper – September 13, 2023
Image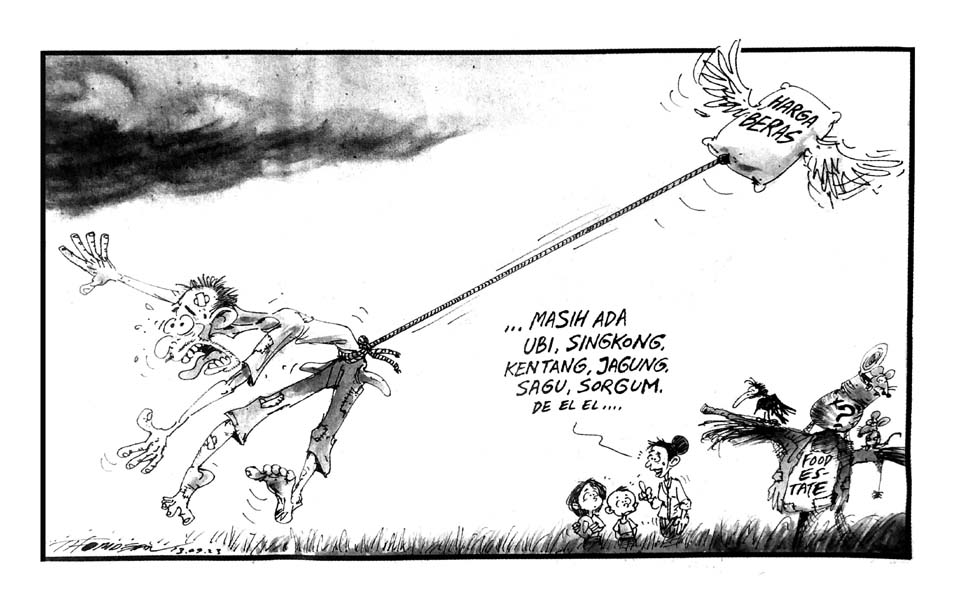 Body
Woman: There's still sweet potatoes, cassava, potatoes, corn, sago, sorghum, and... and...
Sack reads "Rice prices", Scarecrow reads "Food estate".
Indonesia's poor are being hit hard by a spike in rice prices that have reached record highs recently, with medium-grade rice costing almost 13,000 rupiah (around US 85 cents) a kilogram, a increase of 20 percent since January.
The surge in rice prices is being partly blamed on dry weather due to the El Nino weather phenomenon, which has dried up paddy fields over the last three months.
According to the Indonesia Farmers Union, some regions with poor irrigation systems such as parts of Banten province in Java, have been severely affected by the drier weather resulting in a decline in rice production.
A number of farmers in Banten and Central Java have also shifted to planting corn that require less water.
Of particular concern is that the country is well past its harvest season or peak rice production period, and that this is happening at a time when the economy is likely to see year-end inflationary pressure from the holiday period and upcoming elections.
The government has attempted to stem the price hikes by releasing rice stockpiles at lower prices in the traditional markets, but with little effect.
According to the National Statistics Agency (BPS) Indonesia produced 31.5 million tonnes of rice in 2022, almost all of which was consumed domestically.
And total production in 2023 is predicted to decrease by about 1.2 million tonnes due to the El Nino phenomenon, according to the Agriculture Ministry.
To cover the shortfall, the government is importing 2 million tonnes of rice from countries such as Vietnam and Thailand.
And in anticipation of a poor harvest and prices remaining high, President Joko "Jokowi" Widodo has said the government would import another 1.5 million tonnes of rice on top of the 2 million already being imported.
President Widodo has also said that the government will resume the development of the controversial Merauke Food Estate in Papua, which has been slammed by critics who say that similar projects have caused deforestation, shown poor results and have largely been abandoned by local farmers.