Drunken Republic Cartoons
November 2018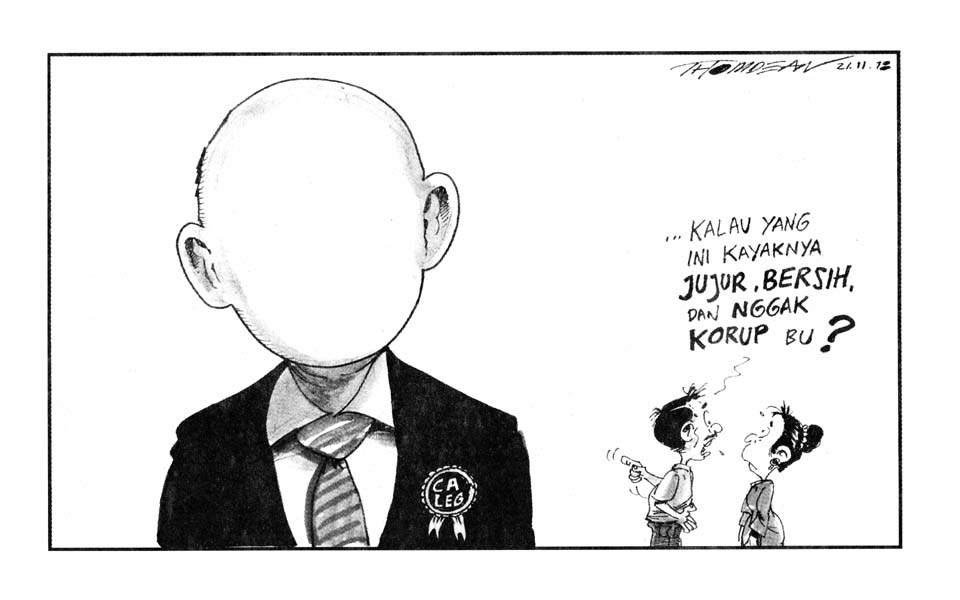 Kompas – November 21, 2018
Man: Take this one, it looks like they're honest, clean and not corrupt, right Mrs?
Kompas – November 14, 2018
Man: If it keeps going like this, when will there be any progress?
October 2018
Kumparan – October 30, 2018
President Joko Widodo (left) announced Saturday that all vehicles will be free to use the 5.4 kilometre Suramadu (Surabaya-Madura) toll bridge conn
Kompas – October 24, 2018
Kid: How come all we do is import rice?
Farmer: Yes, well, if we didn't we'd be dead (scarecrow reads "rice data hoax")
Kompas – October 10, 2018
Tourist: Hopefully the weather will improve...
Masseur: And we'll get 'drop or two' from the outcome... (Shorts read: Investor)
From an op-ed piece titled Celebrating lies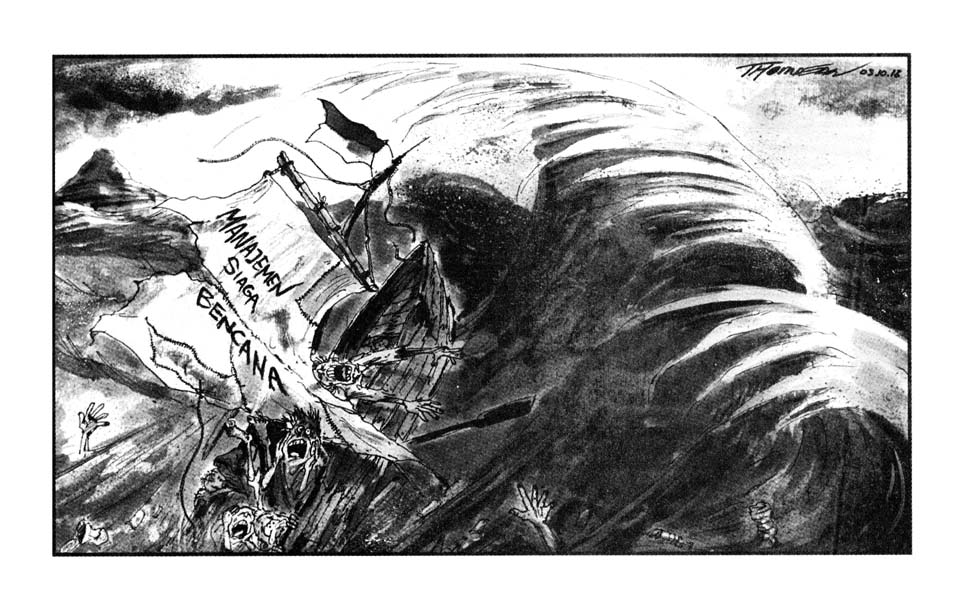 The tsunami that hit Central Sulawesi on Friday – where walls of water up to 6 metres and a magnitude 7.5 earthquake killed at least 832 people in
September 2018
Kompas – September 26, 2018
Don't just declare it... are you ready?
Writing reads: No hoax, no SARA, no money politics
Kompas – September 19, 2018
T-shirts read: Former drug convict, former corruption convict, former pedophile convict.
Kompas – September 5, 2018
Man: Forward Mr... (T-shirt with 73th anniversary of independence)
Subscribe to Drunken Republic RSS News Feed