Source
Kompas – November 13, 2019
Image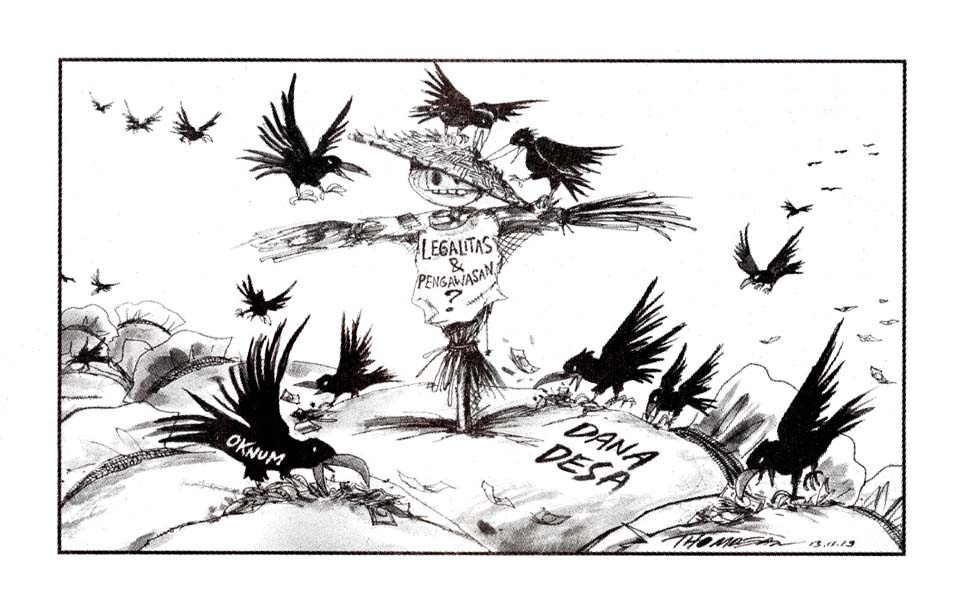 Body
Scarecrow reads: legality, supervision. Crow reads: Rogue (government officials)
The Finance Ministry has announced that it will freeze regional government accounts that have been channeling rural development funds (dana desa) to bogus villages, an official said on Tuesday.
Finance Minister Sri Mulyani Indrawati raised the issue last week saying state funds had gone to ghost villages with no residents.
The ministry said that it will suspend the rural development fund until the villages in question complete their administrative requirements and that the Affairs Ministry is currently verifying if the villages really do exist and will report its findings to the Finance Ministry.
Currently, almost 75,000 villages receive the rural fund, which President Joko "Jokowi" Widodo initiated in 2015 to accelerate economic development in rural areas and encourage fairer wealth distribution. According to the program, each village or urban ward was entitled to Rp 1 billion ($71,000) annually.
This year the government allocated Rp 70 trillion for the village fund and will increase it to Rp 72 trillion in 2020. From January to October this year, the government has already disbursed almost Rp 52 trillion or 74.23 percent of the rural budget.