Source
Kompas Newspaper – May 24, 2023
Image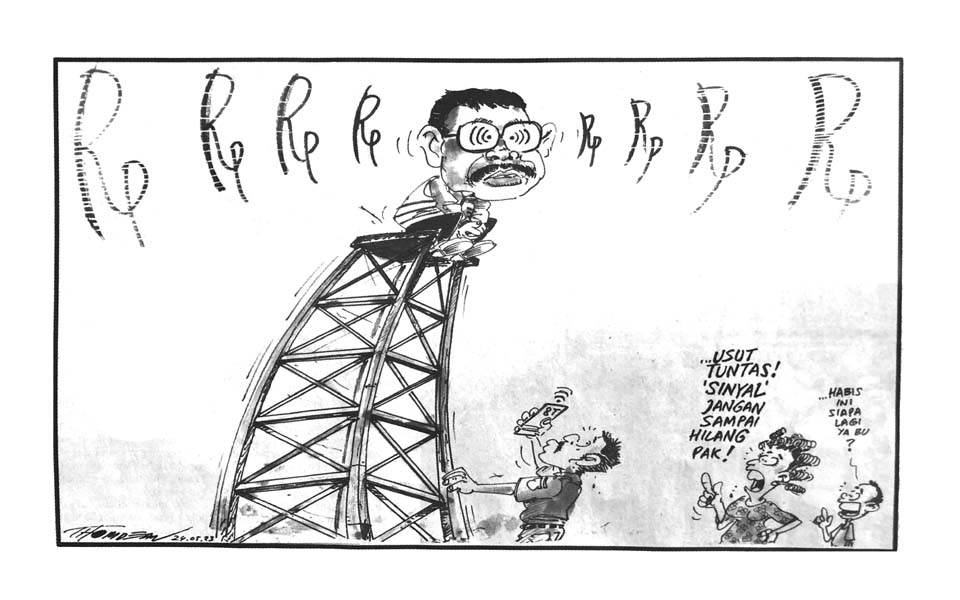 Body
Woman: Investigate it thoroughly, don't lose the signal Mr!
Man: After this, who's next...
The Attorney General's Office (AGO) is expanding its investigation into the graft-ridden 4G base transceiver station (BTS) project to look into other related crimes and perpetrators. It is also investigating money-laundering schemes potentially linked to the project and whether attempts were made by government officials to thwart the probe.
The project, which falls under the Communications and Information Ministry, is believed to have cost the state some 8 trillion rupiah (US$533 million) in losses and has led to the removal of former communications minister Johnny G. Plate (pictured on top of cell phone tower), a National Democrat Party (NasDem) politician, who was arrested on May 18 on corruption charges.
At least seven other people have been named suspects in the case and speculation continues to swirl around the possible involvement of even more perpetrators.
The latest rumor points to the alleged involvement in the scandal of Happy Hapsoro Sukmonohadi, the husband of House of Representatives (DPR) Speaker Puan Maharani of the ruling Indonesian Democratic Party of Struggle (PDI-P).
The PDI-P's attorney, Yanuar Wasesa, has vehemently denied the allegation, calling it an attempt "to attack the PDI-P ahead of the 2024 general elections".
[Taken from an article by the Jakarta Post titled "Indonesian AGO expands investigation into BTS scandal as three more trials open": https://asianews.network/indonesian-ago-expands-investigation-into-bts-scandal-as-three-more-trials-open/.]