Source
Kompas Newspaper – May 31, 2023
Image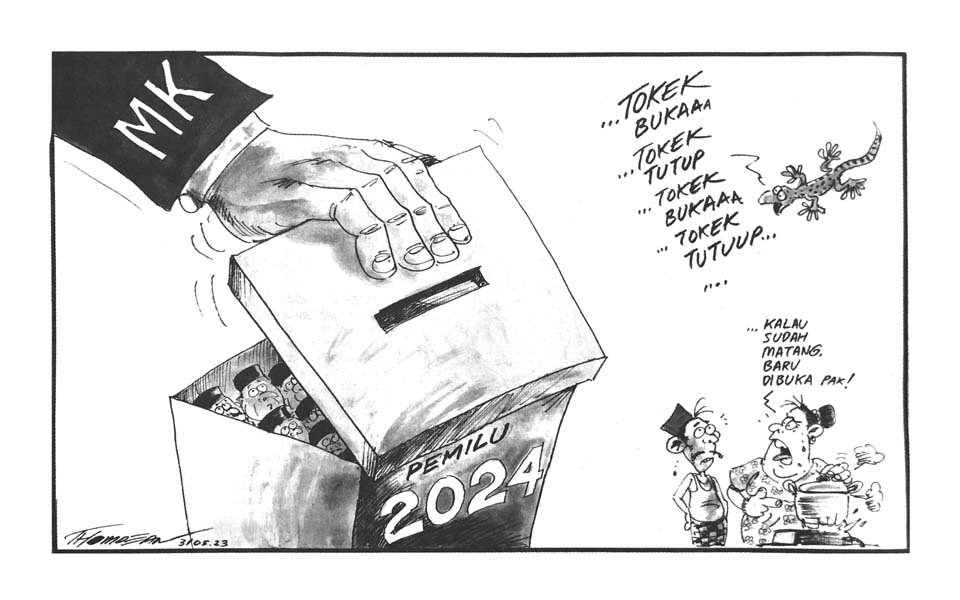 Body
Tokek, open
Tokek, closed
Tokek, open
Tokek, closed
Woman: Only open it when it's properly cooked.
Arm reads "MK – Constructional Court", box reads "2024 elections".
Coordinating Minister for Security, Politics and Legal Affairs Mahfud MD is urging the police to investigate an alleged leak of an upcoming Constitutional Court (MK) verdict on the electoral system.
The call was made after former deputy justice minister Denny Indrayana published a series of tweets alleging that the court has in fact decided to order the return of the indirect voting system.
Under the closed system, voters cast their ballots for a political party rather than individual legislative candidates and the political party then determined which candidate wins a seat based on a preset numerical order in proportion to the total votes the party gets.
In 2009 the system was replaced by the "open-list proportional representation" system in which political parties put the list of selected candidates and their photographs on the ballots.
The current system is being contested in the Constitutional Court by six individuals who are petitioning the court to order the return of the previous system.
President Joko "Jokowi" Widodo's ruling Indonesian Democratic Party of Struggle (PDI-P) has also thrown its support behind returning to the closed system although most of the other political parties have said they want to stay with the current system.
Indrayana claimed in his tweet that the Constitutional Court justices have voted to reinstate the old system 6 to 3 although a formal announcement has yet to be made.
During a news conference in Jakarta on Monday May 29, Mahfud insisted that the court has not yet reached any conclusion, saying a closed-door session discussing the verdict will take place on Wednesday. He added that the public should wait until the verdict is read out and not speculate prematurely on the outcome.
According to Javanese beliefs, counting the number of calls made by the male tokay gecko can mean something is good or bad. If the last call is an odd number it means good, and an even number means bad.
[Based on an article by the Jakarta Globe titled "Mahfud calls for police probe into 'leaked election system verdict'": https://jakartaglobe.id/news/mahfud-calls-for-police-probe-into-leaked-election-system-verdict.]