Source
Kompas Newspaper – July 26, 2023
Image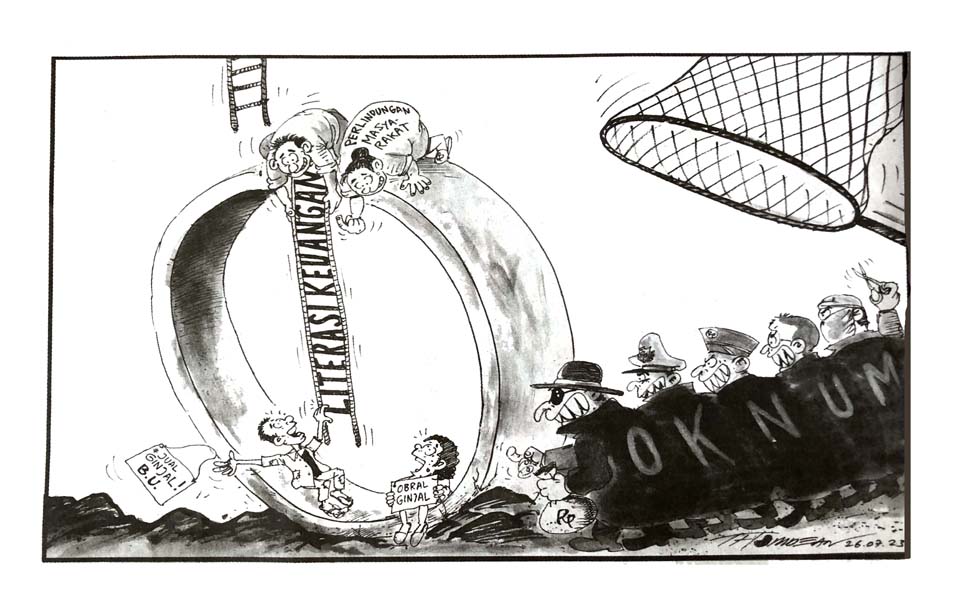 Body
Ladder reads "Financial literacy", people holding ladder "Protecting the public", placards read "Kidney for sale", writing on dark figures reads "Unscrupulous individuals".
Indonesian police last week announced that they had arrested 12 suspects believed to be members of an illegal organ trade syndicate accused of preying on at least 122 victims and selling kidneys to a Cambodian ring.
While it remains unclear how many victims actually had their kidneys harvested and sold by the syndicate, and the identities of most of the suspects were not disclosed, one was identified as a low-ranking police officer with the initial M.
The victims of the syndicate came from variety of backgrounds, including traders, teachers and even a master's program graduate from a well known university in Indonesia.
"Most of them were in desperate need of money and these vulnerable individuals became the target of the syndicate", said Jakarta police general crimes division director Hengki Haryadi at a news conference in Jakarta.
According to Haryadi, the transnational trafficking group had been in operation since 2019 and had netted some $1.6 billion over the years, with each victim promised just $9,000 for a kidney.
Haryadi added that, "Most of the victims lost their jobs during the pandemic and they agreed to sell their organs because they needed money".
Damai Pakpahan, a feminist activist based in the Central Java city of Yogyakarta, said that human trafficking occurs in Indonesia due to a multitude of factors that include lack of state intervention coupled with economic and educational challenges.
"Due to a shortage of work opportunities and poverty, people just believe online information or have low literacy", making them vulnerable to scams, she said.
"The government is not pursuing its mandate to protect the people and there are failed bureaucratic reforms, bribes and corruption that add to the problem", she added.