Source
Jakarta Post – August 2, 2023
Image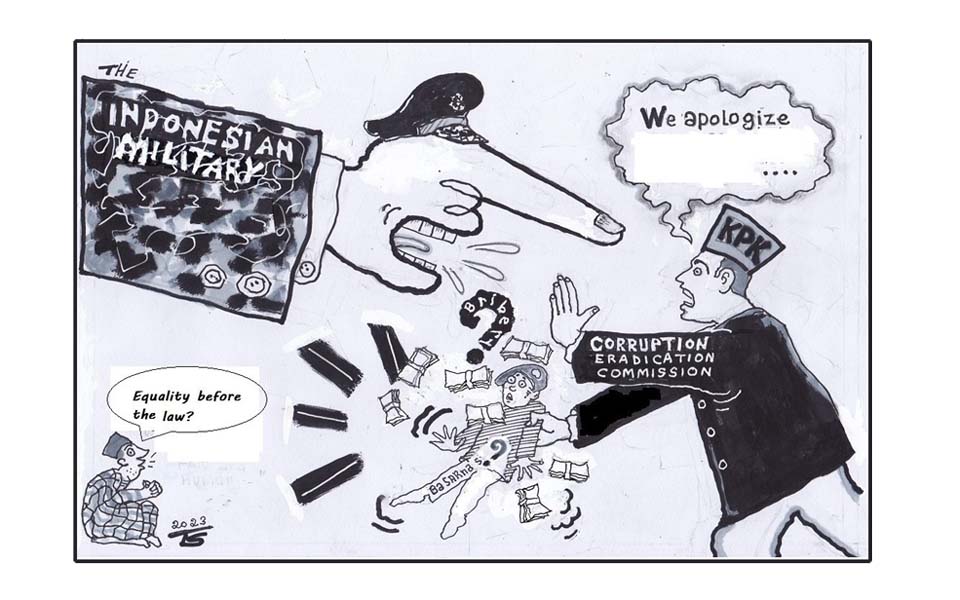 Body
Jakarta – Under its current leadership, the Corruption Eradication Commission (KPK) has been subject to its fair share of criticism, but still it deserves the public's support when its efforts to enforce the law are met with resistance, even bullying, from a powerful institution.
The way we as a country deal with the tension between the KPK and the Indonesian Military (TNI), over the arrest of two active TNI officers in connection with alleged misappropriation of state funds at the National Search and Rescue Agency (Basarnas), will define the future of our fight against corruption.
As part of the sweeping reforms that brought Indonesia out of authoritarianism, the nation set an agenda of uprooting corruption, collusion and nepotism. These goals were institutionalized in the KPK. Since its inception in 2004, hundreds of public officials in the executive, legislative and judiciary, as well as businesspeople, have faced justice for graft. A few of them were police and military officers.
The reforms also put an end to the sociopolitical role of the military, requiring it to focus on defense alone. The new mandate was understandably painful for the TNI, given that the dwifungsi (dual roles) had allowed it to maintain outsize power for more than 30 years.
The TNI deserves credit for acceding to the reforms without excessive grumbling and generally respecting civilian supremacy. The progress, however, would have been smoother if the TNI had accepted proposed revisions to the 1997 Military Court Law that sought to allow district courts to hear criminal offenses involving active officers. All attempts to amend the law since the beginning of the Reform Era in 1998 have stalled because of TNI objections.
It is this 1997 law that has triggered the conflict between the KPK and the TNI. The antigraft agency justified its arrest of Basarnas chief Vice Air Marshal Henri Alfiandi and his aide-de-camp Lt. Col. Afri Budi Cahyanto with articles in the Corruption Law, while an irate TNI insisted that the Military Court Law took precedence. The KPK named the two officers suspects on July 26.
The full article titled "Soldier on, KPK" can be read here: https://www.thejakartapost.com/opinion/2023/08/01/soldier-on-kpk.html