Source
Kompas – February 3, 2021
Image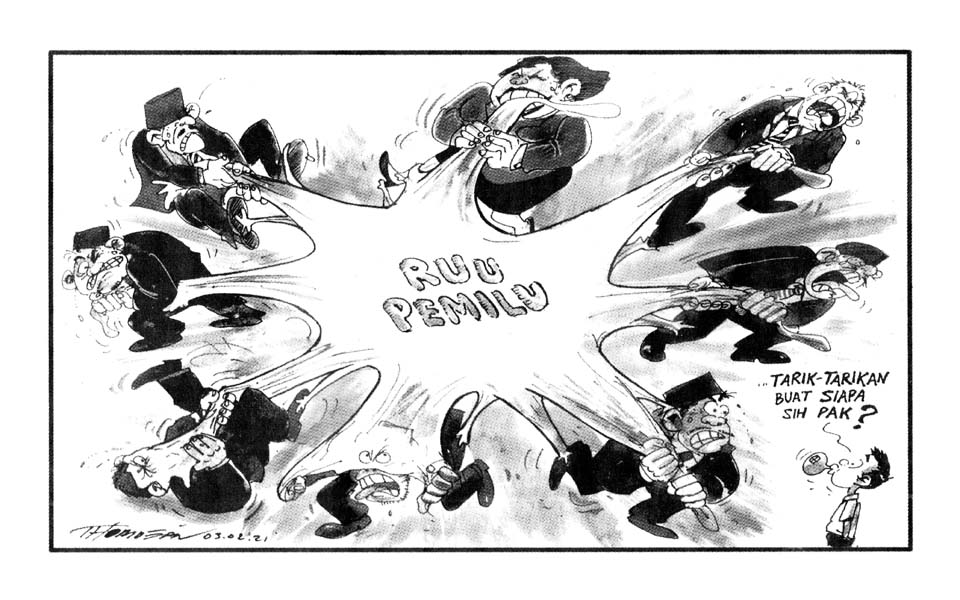 Body
Kid: All this squabbling, who's if for Mr?
The current election law (RUU Pemilu) was only enacted three years ago but the political elite are already squabbling over whether or not to revise it again.
While the proposed revisions concern a range of electoral issues – ranging from a plan to bar members of outlawed organisations from running in elections to the threshold for nominating presidential candidates – the main focus of the debate is on whether the country should hold regional elections in 2022 and 2023 or in 2024, as mandated by the current law.
But this is more than just a technicality, with analysts saying that the date of the next regional elections will have a significant influence on the outcome of the 2024 presidential election.
Citing health concerns – the same argument the government dismissed in the face of widespread public opposition to the 2020 regional elections – the government of President Joko "Jokowi" Widodo is stanchly opposed to any revisions to the law, and for good reason.
If no regional elections are held before 2024, hundreds of regional heads whose terms in office end in 2022 and 2023 will be replaced by acting heads selected by the central government. In total there will be 271 regions led by acting regional heads including 27 provincial governors.
In the case of acting governors, they will be selected directly by President Widodo while regents and mayors will be selected by the Home Affairs Ministry headed by Widodo loyalist Tito Karnavian.
This of course will benefit Widodo and the political parties in his ruling coalition considerably because they can secure regional head positions without having to take part in elections. It also means they will control the all important gubernatorial posts giving them a huge campaign advantage in the legislative and presidential elections.
And as an added benefit, it will also removing the political platforms for regional heads seeking to contest the 2024 presidential election and weaken the chances of rival presidential hopefuls such as Jakarta Governor Anies Baswedan and West Java Governor Ridwan Kamil.