Source
Kompas – October 14, 2020
Image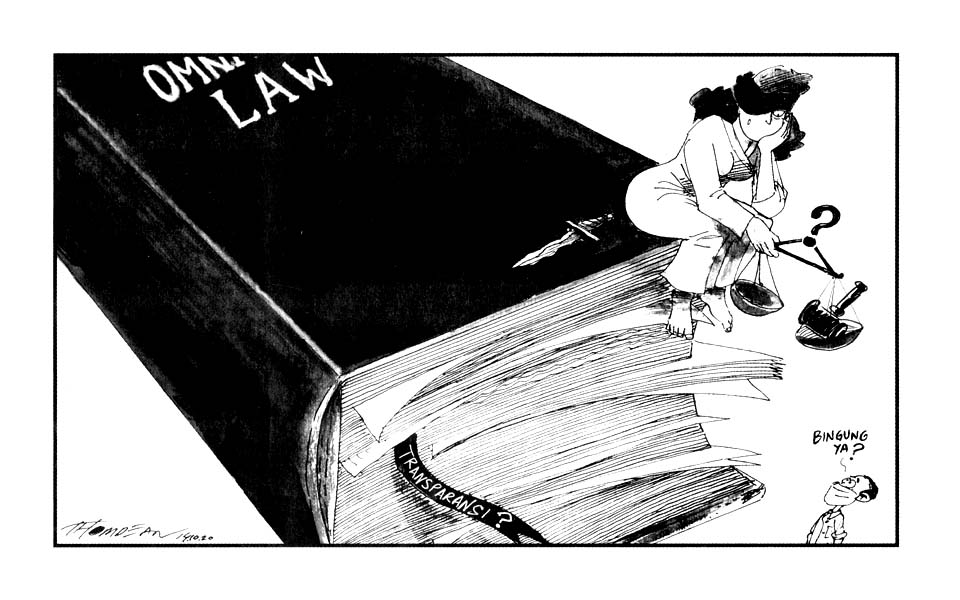 Body
Man: Confused huh? (writing on book mark reads "transparency")
The highly contentious and unpopular Omnibus Law on Job Creation was passed into law on October 5. In response tens of thousands of people took to the streets across Indonesia in a series of angry and sometimes violent protests.
The bill – which will revise some 79 laws – has been slammed for its potential to violate human rights, particularly in relation to labour and environmental protections.
Critics say it was rushed through without adequate public consultation to obscure the vested interests behind it, and the way the government and parliament constructed their own narrative of the bill's legitimacy meant public dissent was ignored.
It also revealed how President Joko "Jokowi" Widodo's administration has manipulated the liberal legal system to serve politically linked business interests, further undermining Indonesia's already weakened democracy.
In response to public anger, the government encouraged protestors to challenge the law in the Constitutional Court – knowing full well there was little chance they would win.
A Constitutional Court Law revision rushed through parliament last month which extended the maximum term for justices was seen by many as a gift to sitting judges in anticipation of petitions against several recently enacted laws – including the Omnibus Bill – further restricting legal avenues already hijacked by anti-democratic forces.
The manipulation of democratic process and the rule of law for illiberal purposes is not new, but under Widodo's watch it has become more blatant. The most obvious example being last year's move to rein in the powers of the Corruption Eradication Commission (KPK) – the country's most trusted state institution. Similar attempts to weaken the KPK were made by president Susilo Bambang Yudhoyono, but Widodo succeeded where his predecessor failed.
[Based on an article by Indonesia at Melbourne titled "Omnibus law shows how democratic process has been corrupted" – https://indonesiaatmelbourne.unimelb.edu.au/omnibus-law-shows-how-democratic-process-has-been-corrupted/.]