Source
Kostum Komik – September 5, 2022
Image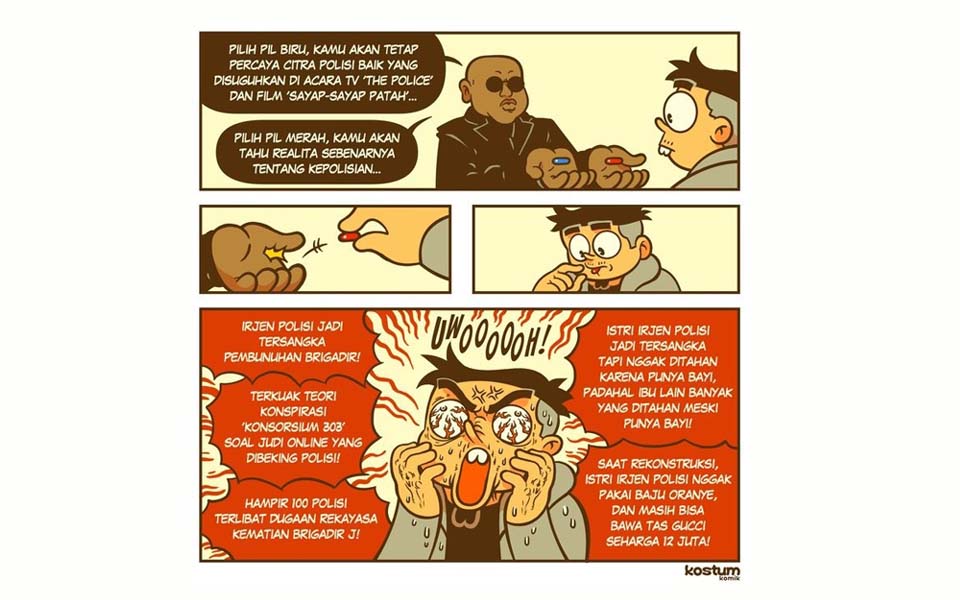 Body
Morpheus: Choose the blue pill and you will continue to believe the police's good image as presented in the TV series The Police and the film Broken Wing. Choose the red pill and you will know the actual reality of the police.
Police Inspector General declared suspect in murder of Police Brigadier J!
'Consortium 303' conspiracy revealed, online gambling backed by police!
Almost 100 police officers allegedly involved in plot to murder Brigadier J!
Police Inspector General's wife declared suspect but not detained because she has baby, yet other mothers with babies have been detained!
During crime reconstruction Inspector General's wife not wearing orange jumpsuit, still carrying 12 million rupiah Gucci bag!
The convoluted case involving a former police general's alleged murder of his aide threatens to up-end the Indonesian public's trust in their law enforcement agencies.
The high-profile murder case involving former Indonesian Police Inspector General Ferdy Sambo has created public controversy which threatens to overturn Indonesians' once stellar trust in the National Police (Polri). If Polri fail to meet public demand to investigate the case transparently and conclusively, lasting damage to the country's foremost law enforcement institution's reputation could be done.
Late last year, Polri became the law enforcement agency that the Indonesian public trusted the most. Now, however, the police face their toughest challenge after being embroiled in a firestorm of controversy involving one of its most notorious high-ranking officers. National television's 24/7 coverage and heated social media chatter have been buzzing nonstop since August 2022. Ferdy Sambo, who held the post of Head of the Professional and Security Division, became the prime suspect in the case of premeditated murder against his personal aide, Brigadier Yosua, on 8 July 2022.
Since the beginning of the investigation, questions have been raised about the many irregularities. The police made a formal report only three days after the incident, on 11 July 2022. The closed-circuit television feed from the incident scene was initially reported to be damaged and the murder victim's family was not allowed to open his coffin. Police investigators initially parroted Sambo's lie, that Yosua was involved in a shootout with another Sambo aide who caught Yosua threatening and sexually assaulting Sambo's wife, Putri Candrawathi. The public were skeptical of this story, especially disbelieving the claim that a subordinate would behave in such a way to his superior's wife. Sambo later admitted making this claim up.
Source: https://twitter.com/kostumkomik/status/1566693648800002048