Source
Kompas Newspaper – March 15, 2023
Image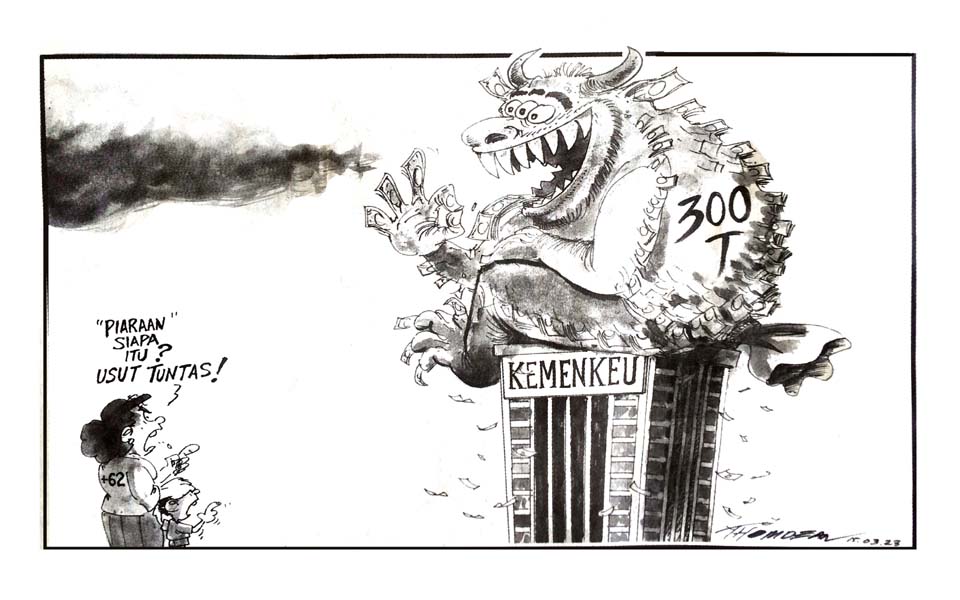 Body
Woman: What kind of animal is that? Investigate it fully!
Finance Minister Sri Mulyani Indrawati has come under fire over allegations of massive corruption or fraud, not by her, but by staffers in her ministry. The charges are not only hurting her personal reputation, but they also undermine the credibility and public trust in the Finance Ministry (Kemenkeu), which oversees the Taxation Directorate General.
Mulyani quickly went on the offensive challenging Coordinating Security, Politics and Legal Affairs Minister Mahfud MD and the Financial Transaction Reports and Analysis Centre (PPATK), who first revealed the alleged 300 trillion rupiah (US$20 billion) in "suspicious transactions" at the ministry.
Both have since backtracked on their statements with Mahfud saying it was "money laundering" rather than corruption and the PPATK saying the figure was the sum of unexplained transactions from its reports between 2009 and 2023. At a joint press conference on March 13, Mulyani said she would follow up on the PPATK reports and asked Mahfud to help her clean up the ministry.
However the claim quickly caught the public's attention as it came amid growing public scrutiny of the extravagant lifestyles of the families of several officials of the Taxation Directorate General and the Customs Directorate General – both overseen by Mulyani.
Netizens have exposed their lifestyles by posting data and photos gathered from the social media pages of top officials and their spouses and children flaunting their wealth. These posts have gone viral, triggering the Finance Ministry to launch investigations into dozens of officials at the two agencies about the true extent of their wealth and the source.
For Mulyani, this is a personal slap in the face. As finance minister under then-president Susilo Bambang Yudhoyono in 2005-2010, she attempted to reform the tax and customs agencies – then notorious for corruption – by hiking staff salaries in order to tempt them away from corruption. Based on the wealth they and their families flaunt on social media, this has clearly not been effective.
[Based on a Jakarta Post article titled "Sri Mulyani battles to defend integrity and ministry reputation": https://www.thejakartapost.com/opinion/2023/03/20/analysis-sri-mulyani-battles-to-defend-integrity-and-ministry-reputation.html]