Source
Kompas Newspaper – March 20, 2023
Image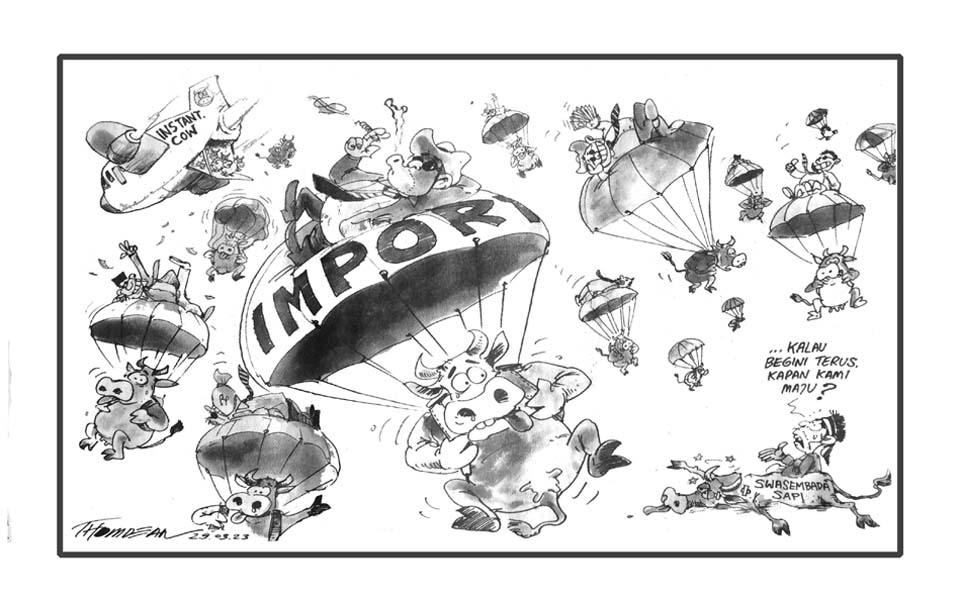 Body
Beef farmer: If it continues like this, when will we see any progress?
Writing on cow reads "Beef self-sufficiency"
According to the Indonesian Traditional Markets Trader Association (IKAPPI), meat imports have failed to drive down soaring beef prices amid the Ramadan holy fasting month, with IKAPPI Chairperson Abdullah Mansuri saying prices had risen to as high as 150,000 rupiah ($9.56) per kilogram.
Mansuri said that the government needs take a more comprehensive approach by paying attention to the entire supply chain, noting that local farmers are not benefiting from the high prices.
Agriculture expert Rochadi Tawaf from the Padjadjaran University has attributed the annual problem of skyrocketing beef prices during Ramadan to inaccurate government data and inconsistent policies.
According to Tawaf, the inaccuracy stems from the use of different data collection methods, and he is urging the government to implant microchips in the cows for more accurate data on livestock numbers.
"By policy inconsistency, the Agriculture Ministry has designed a roadmap to make Indonesia Asia's foodshed by 2045, with the assumption that it provides and imports 3.5 million brood cows in ten years, or about 350,000 brood cows a year. But none of these commitments are met, meaning that the government is not serious enough to deal with this beef issue. Because of budgetary problems, imports probably stood at around 10,000 cows a year", Rochadi told the Jakarta Globe.
The State logistics procurement agency meanwhile is set to import 100,000 tons of frozen buffalo meat this year and the state-owned food holding ID Food also plans to import a total of 100,000 tons of Brazilian beef.
[Based on an article by the Jakarta Globe titled "Meat imports not the fix for soaring prices: Association": https://jakartaglobe.id/business/meat-imports-not-the-fix-for-soaring-prices-association]