Source
Kompas Newspaper – May 17, 2023
Image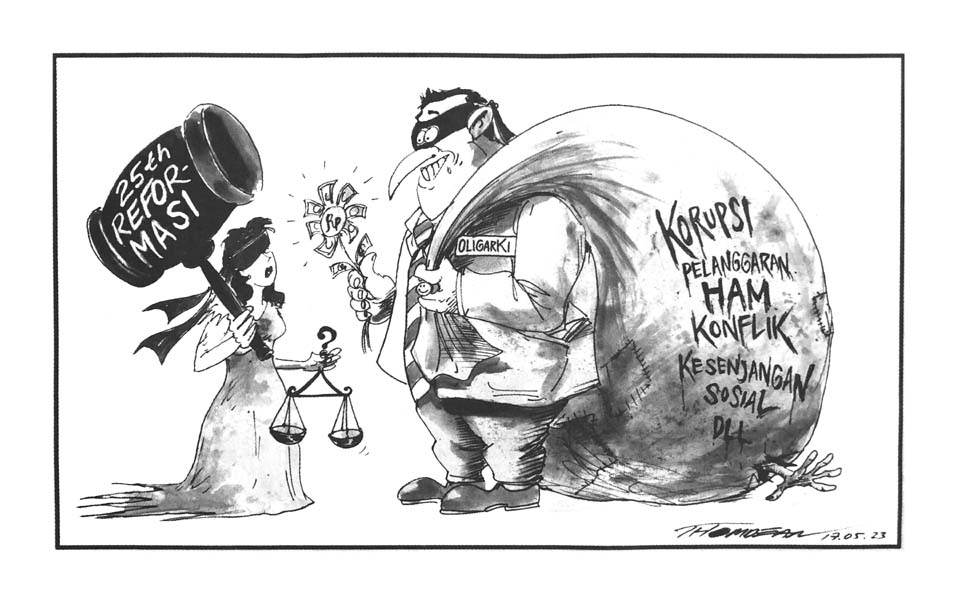 Body
Gavel reads "25 years of reformasi", armband reads "Oligarchy", writing on sack reads "Corruption, human rights abuses, conflicts, social inequality, and so on".
Resty Woro Yuniar – Maria Catarina Sumarsih's world crumbled on November 13, 1998, when she received news that Indonesian soldiers had killed her son on his university campus, nearly six months after the end of a 32-year dictatorship ushered in a period of democratic reform.
Sumarsih's son, Bernardus Realino Norma Irawan, 20, had been part of a nationwide student-led movement protesting against a special session of the Indonesian parliament, the first assembly held in the country after military strongman Suharto resigned as president in May 1998.
Bernadus, also known as Wawan, had joined other student protesters in the grounds of Atma Jaya University in Jakarta, as they voiced their distrust of Suharto's successor BJ Habibie and called for an end to the military's non-elected representation in parliament.
Armed soldiers fired in response, killing 17 people – including Wawan – and wounding more than 400 others in a riot that became known as the Semanggi I tragedy. Four students from Trisakti University had died during a demonstration six months earlier demanding Suharto quit.
The shootings added to a series of riots, lootings and rapes, including those targeting at Chinese-Indonesians, that characterised the beginning of Indonesia's Reformasi, a period that saw a greater push for a stronger democracy and more open sociopolitical climate in the world's fourth-most populous nation after the end of Suharto's New Order regime.
The Reformasi movement had six goals, including bringing Suharto and his cronies to court, amending the 1945 constitution, widening regional autonomy, removing the dual functions of the Indonesian Armed Forces, eradicating corruption and enforcing the rule of law.
"In the name of my love to Wawan, I vowed to continue his and his friends' fight, particularly in [pushing for] one of Reformasi's goals, which is enforcing the rule of law," said Sumarsih, now 70. "So far we have failed to bring the six Reformasi objectives into reality."
Sumarsih is not alone in thinking that democracy in Indonesia, 25 years after Reformasi, has taken a back seat under President Joko Widodo, its decline capped by the passing of a new penal code in December that could be used to stifle dissent and freedom of speech and expression.
[The full article by the May 13 South China Morning Post titled "As Indonesia marks 25 years since Reformasi, is democracy unravelling under Jokowi?" can be read here: https://www.scmp.com/week-asia/politics/article/3220334/indonesia-marks-25-years-reformasi-democracy-unravelling-under-jokowi.]