Image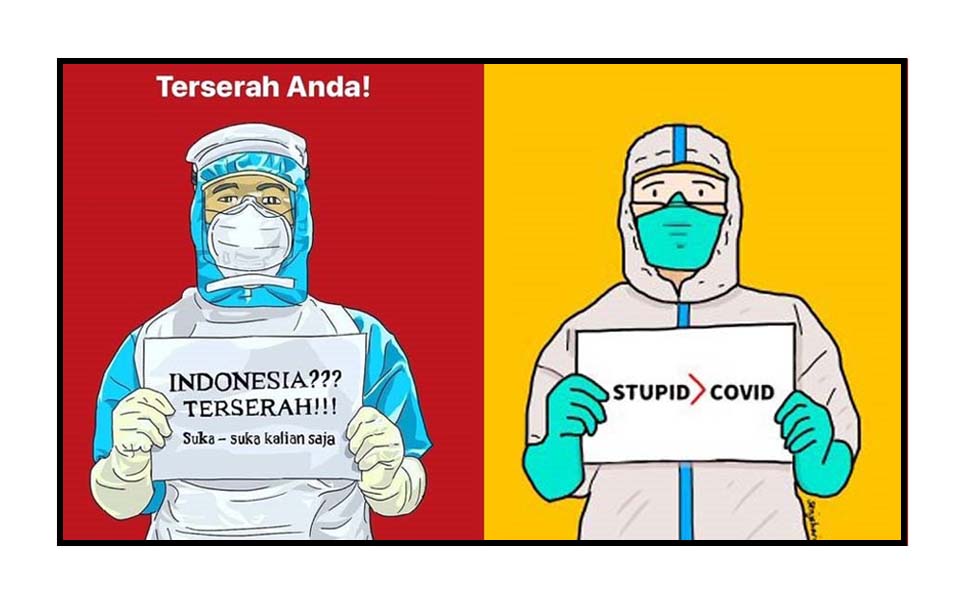 Body
Left image: "Indonesia? Whatever! Do whatever you like"
Right image: Stupid trumps Covid
Social media users have deploying the hashtag #IndonesiaTerserah (#WhateverIndonesia) to express their frustration over the public's apparent disregard for physical distancing measures and the government's inconsistent COVID-19 policies.
The hashtag gained momentum as several photos and videos of health workers clad in protective gear holding signs containing the phrase went viral on Twitter and Instagram.
Prominent social media influencer Tirta Mandira Hudhi, a frontline COVID-19 doctor, popularized the hashtag by posting one such photo on his Instagram account @dr.tirta.
The image depicts a medical worker, who appears to be Tirta himself, in protective gear holding up a sign that reads "Indonesia? Whatever! Do whatever you like".
"In light of what happened in Sarinah [a few days ago] and at [Soekarno Hatta International Airport]", wrote Tirta in the caption referring to two separate incidents recently.
In the first, hundreds of people gathered in front of a McDonald's restaurant in Sarinah, Central Jakarta, on its closing day. In the second, crowds packed into Soekarno Hatta Terminal 2, in an apparent violation of the large-scale social restrictions (PSBB) imposed to stem the spread of COVID-19.
The incidents came a few days after the Transportation Ministry opened air, land and sea transportation services, a move that drew strong criticism from experts.
Another health worker with the Twitter handle @helwatshlhh posted a picture of herself holding up a similar sign, expressing her frustration over the country's response to the pandemic.
"#IndonesiaTerserah I've given up on you, Indonesia. It hurts my heart that my hard work has been betrayed", she tweeted Saturday.
User @icegurlcc re-posted a TikTok video of a health worker holding up a sign featuring the same phrase in an attempt to raise public awareness about the struggles of those working on the front lines.
"There's a limit to patience. The context here is that people who have risked their lives [for the public] realised that [the public] didn't [respect] them", the user wrote in the caption.
According to the International Council of Nurses (ICN), at least 90,000 health workers have been infected by the coronavirus disease worldwide and more than 260 nurses have died.
Nationally, Amnesty International Indonesia (AII) revealed that 59 health workers, including 38 doctors and 21 nurses, had succumbed to COVID-19 as of last week.
As of Sunday, Indonesia had confirmed 17,520 COVID-19 cases and 1,148 deaths as a result of the disease.
Abridged from the May 15 Jakarta Post: https://www.thejakartapost.com/news/2020/05/17/covid-19-indonesiaterserah-trends-as-frustration-mounts-over-physical-distancing-violations-govt-policies.html