Drunken Republic Cartoons 2013
December 2013
Kompas – December 28, 2013
Kompas – December 21, 2013
Kid: Dynasties aren't just in Banten are they Mr?
The arrest by the Corruption Eradication Commission (KPK) of Banten Governor Ratu Atut Chosiyah, the head of a powerful political dynasty in Banten province that has been accused of siphoning off tens of billions in public money, has reignited concern about the proliferation of political dynasties around the country.
Kompas – December 14, 2013
Man speaking to Transport Minister EE Mangindaan: Mr Minister, the road accident rate is dropping, that means transportation is improving yeah?
Kompas – December 11, 2013
Man: Ahh, all that's changed is the year and they've gotten older...
Caleg: It's also changed my fortunes!
Kompas – December 4, 2013
Man: Please, go ahead Mr...
November 2013
Kompas – November 30, 2013
Man speaking to KPK chief Abraham Samad and Supreme Audit Agency head Hadi Poernomo: What's important is where the money went Mr!
Kid: The money's found its way far and wide... and in the end...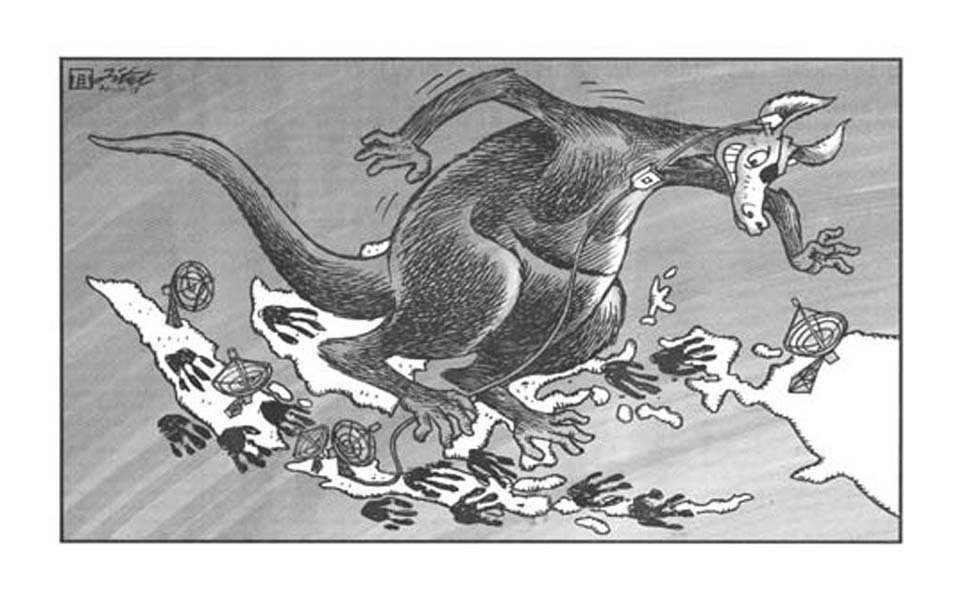 Kompas – November 20, 2013
With legislative and presidential elections only a few months away, the Australian spy scandal provided a perfect opportunity for political grandstanding with politicians of every strip falling over each other to demonstrate their nationalist credentials by either blasting Australia – or slamming President Yudhoyono for over-reacting or criticising his inadequate response.
Kompas – November 16, 2013
Man: Don't go saying my party is a corrupt party!
Kompas – November 13, 2013
With hordes of cheap, new cars and motorcycles continuing to hit the city's streets, and the two rail-based public transit networks not expected to be ready until at least 2016, experts have warned that Jakarta faces total gridlock in 2014.
Kompas – November 6, 2013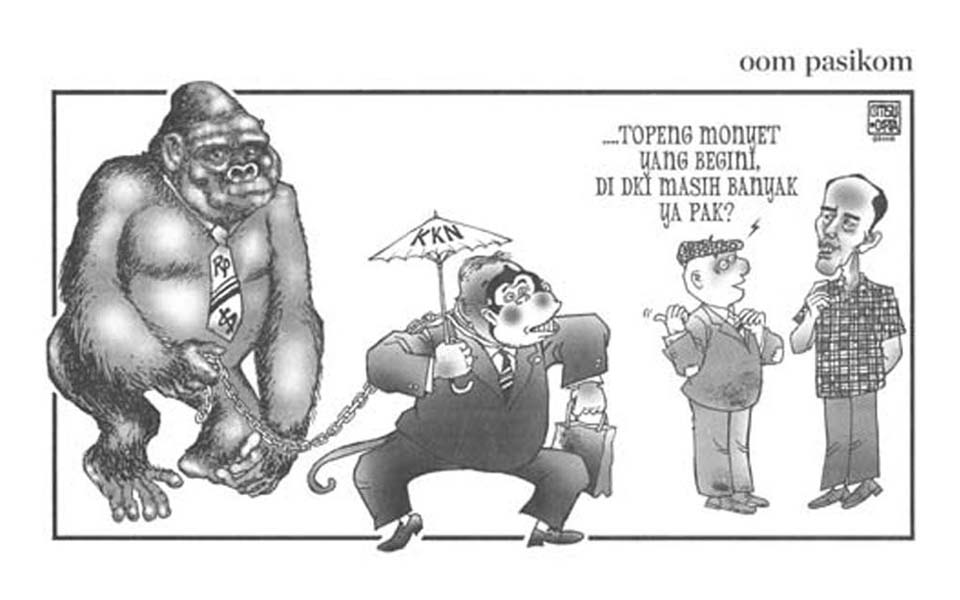 Kompas – November 2, 2013
Man: There are still lots of masked monkeys like this in Jakarta right Mr?
October 2013